SOLEN
金属化聚丙烯膜高速电容器
FAST CAPACITORS
METALLIZED POLYPROPYLENE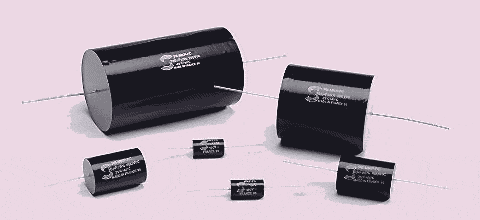 When the concept "Fast Capacitors" was first introduced in late 1987, SOLEN Inc. was the first capacitor design company in the world to apply this radically new advanced design concept to metallized polypropylene film capacitors for audio application. It was a challenge for SOLEN to put this much advanced design refinement and breakthrough engineering into film capacitors that shatters the boundaries between ordinary film capacitors and fast film capacitors.
SOLEN 公司于1978第一个引入"高速电容器"的概念,
彻底的将金属化聚丙烯膜电容器这新的先进设计概念应用在音响.
这是SOLEN的挑战,须要应用很多精湛的先进设计与技术的突破,
来突破一般塑胶电容器与一般高速电容器的限制.
Advanced design concept 先进的设计概念
This advanced design concept was originally developed for the European Space Agency for very high pulse current power-electronics, where many Kamps, Kvars or kV/us needed to be accommodated, such as radar pulse modulators and power-factor correction banks. Extensive research and development, applying the latest developments in aerospace technology to the plastic film capacitors manufacturing process and equipment, have led us to the successful design and development of "SOLEN Fast Capacitors."
这先进的设计概念原本是为了开发欧洲地区的代理极高脉冲电源电子学,
那里有很多 Kamps, Kvars 或 kV/us , 如:雷达脉冲调节器和功率因数补偿组.
广泛的研究与发展,应用到最新航空科技的塑胶电容制程与知识,
引导我们成功的研发出 "SOLEN高速电容器" .
Fast Capacitors 高速电容器
Fast Capacitors The "SOLEN Fast Capacitors" consist of highest grade aluminum metallized polypropylene film available. The fast capacitors are the round wounded type, tubular "square" shape. They use an extended bifilar thicker aluminum metallized high quality polypropylene film electrode construction type. The face ends are thermal metal sprayed to connect all the turns in parallel to obtain the lowest inductance. Lead connections are made by means of welding a high purity large diameter tinned oxygen free copper's leads onto the metal spayed face ends for high current capacity. The windings are then enclosed without impregnation in reinforced plastic tape wrapping with an epoxy resin sealed ends.
"SOLEN高速电容器"是由最高等级的铝金属化聚丙烯塑胶膜所组成.卷绕成圆筒状,外观呈圆柱型.
以铝金属化聚丙烯塑胶薄膜从两端重叠的电极构造.
表面以真空蒸镀上一层很薄的金属以做为电极,使电感降到最低.
引线是用高纯度大直径氧化铜包锡焊接于两端.
Electrical performance 电气性能
This superior concept significantly improved the electrical and mechanical characteristics of the capacitors. They deliver a high level of performance that has never before been achieved, which will directly enhance the efficiency of loudspeaker and other electronic equipment. SOLEN Fast Capacitors outperform any other similar capacitors: multi-sections, segmented, ordinary or otherwise, due to our unique short length, a wide diameter, fast design. It is as simple as that.
They have lower dielectric absorption factor, lower equivalent series resistance, lower inductance, higher resonant frequency, more linear impedance, lower dissipation factor, higher current capacity, faster rise time, unrivaled handling of fast high current pulse, high temperature stability, excellent long term electrical and mechanical reliability and a better damped mechanical self resonance under dynamic signal conditions.
这优越的概念很显着地改善电容器的电子和机械特性.
达到前所未有的性能,很直接的提升扬声器及其他电子设备的效能.
"SOLEN高速电容器"优于其他类似的电容器:多段式,分段式,一般或特殊,
由于我们少有的短管大直径,快速设计.就是如此容易.
它们有低介质吸收因数,低等效串联电阻ESR,低电感,较高的共振频率,
更线性的阻抗,低损失角DF,较高电流,更快速上升时间,能够处理快速高电流脉动,
高温安定,优异的长时间电器可靠性和在动态讯号下更好的阻尼机械自共振.
Sonic performance 音质的表现
Sonic performance The SOLEN Fast Capacitors exhibit near-zero losses, they reduce linear, nonlinear distortion and phase distortion to unmeasurable level, showing an almost unbelievable ideal capacitance reactance curve which give the highest level of signal resolution. They literally disappear, they are a step across the boundary of an ordinary capacitor, they make you experience for the first time the visionary world of "real music," it is a masterpiece beyond a capacitor, they make the incredible audible.
Pure music enlightenment
SOLEN高速电容器展现了接近于零的损耗,降低线性和线性失真及几乎无法测量到的相位失真,
展示一个几乎难以相信的理想电容阻抗曲线,得到最高层次的讯号清晰度.
精心的杰作逐一的超越一般的电容器的层次,
使你难以相信SOLEN高速电容器让你听到梦寐以求的高音质.
纯净的音乐启发
---
GENERAL INFORMATION 产品概要说明

Type 型式 :
Metallized Polypropylene Film Capacitor.
MPP金属化塑胶薄膜电容
Dielectric 电介质 :
Polypropylene Film. PP聚丙烯膜
Electrodes 电极 :
Aluminum Metallized, Vacuum Dipososited. 铝金属化真空淀积
Construction 构造 :
Round Tubular "Square Aspect Ratio"Type, Axial Leads.
卧式圆筒型
Winding 绕法 :
Bifilar Extended Metallized Film. 双线伸展金属化薄膜卷绕
Contact 连接端 :
Non-Inductive, Zinc Thermally Sprayed Extended Film.
无感 , 锌加热喷于端面
Coating 外层 :
Black Plastic Tape Wrapped, Grey Epoxy Resin Sealed.
黑色胶带表层 , 灰色环氧树脂封胶
Leads 引脚 :
Tinned Plated Oxygen Free Pure Copper. 无氧铜镀锡
TECHNICAL DATA 技术规格

Capacitance Range/Tolerance :
电容范围 / 误差

0.01 ... 330 μf, E 24 series, ±5%, ±2%.
(请参照详细规格)

Dielectric Constant :
介质常数

2.1 ε, non-polar dielectric. 无极性介质

Dielectric Absortion Factor :
电介质吸收因数

.05% @ 20oC.

Equivalent Series Resistance :
等效串联电阻

Extremely low. 极低 (请参照详细规格)
12 nH with 6mm leads.
Extremely low. 极低 (请参照详细规格)

Insulation Resistance :
绝缘电阻

100,000 MΩ @ 20oC.

Temperature Coefficient :
温度系数

-200 x / oC.
-55oC to +85oC.
1.5 x Vr for 5 sec.
PA = 250Vdc/150 Vac, PB = 400Vdc/250Vac,
PPE = 630Vdc/330Vac

Dielectric Thickness :
电介质厚度

PA = 4 μm, PB = 5 μm, PPE = 6 μm

Metal Layers Thickness :
金属涂层厚度

PA = 0.03 μm, PB = 0.04 μm, PPE = 0.02 μm

Metal Layers Conductivity :
金属涂层导电性

PA = 1.5 - 3 Ω / , PB = 1 - 2 Ω / ,
PPE = 2 - 4 Ω / .
0.8 , 1.0 , 1.2 , 1.5 mm ? . (请参照详细规格)
FEATURE 电导特性
Special Tubular "Square Aspect Ratio" Type Construction. 外观呈圆筒型
High Conductivity Metallization. 高传导率
Soldered Lead Termination. 端面焊接引脚
High Current Capacity. 高电流
High Frequency and Temperature Stability. 高频及高温稳定
Excellent Long Term Electrical and Mechanical Reliability. 优异的长时间电器及机械可靠性
No Short Term and / or Long Term Signal Aberration. 无瞬间或长时间讯号错乱
Unrivalled Handling of Fast High Current Pulse. 可通过较大的脉冲电流
ELECTRICAL PERFORMANCE 电器性能
Very Low Dielectric Absortion Factor. 非常低的电介质吸收因数
Very Low Equivalent Series Resistance. 非常低的等效串联电阻E.S.R.
Very Low Inductance. 非常低的电感系数
Very High Resonant Frequency. 极高的共振频率
Ultra Linear Impedance Characteristics. 超线性阻抗特性
Very Low Dissipation Factor. 非常低的损失角D.F.
Very High Insulation Resistance. 极高的绝缘电阻I.R.
---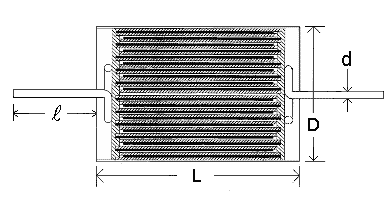 FAST CAPACITORS
METALLIZED POLYPROPYLENE

PA 250Vdc/150Vac

P/N Capacitance / DF ?DxL ?dxl


---

PA100 1.0 mfd .0001 11x21 0.8x25
PA110 1.1 mfd .0001 11x21 0.8x25
PA120 1.2 mfd .0001 12x21 0.8x25
PA130 1.3 mfd .0001 12x21 0.8x25
PA150 1.5 mfd .0001 12x22 0.8x25
PA160 1.6 mfd .0001 12x22 0.8x25
PA180 1.8 mfd .0001 13x22 0.8x25
PA200 2.0 mfd .0001 14x22 0.8x25


---

PA220 2.2 mfd .0001 15x22 0.8x30
PA240 2.4 mfd .0001 13x25 0.8x30
PA270 2.7 mfd .0001 14x25 0.8x30
PA300 3.0 mfd .0001 15x25 0.8x30
PA330 3.3 mfd .0002 16x25 0.8x35
PA360 3.6 mfd .0002 16x25 0.8x35
PA390 3.9 mfd .0002 17x25 0.8x35
PA430 4.3 mfd .0002 17x27 0.8x35


---

PA470 4.7 mfd .0002 18x27 0.8x35
PA510 5.1 mfd .0002 19x27 0.8x35
PA560 5.6 mfd .0002 18x30 0.8x35
PA620 6.2 mfd .0002 19x30 0.8x35
PA680 6.8 mfd .0003 20x30 0.8x35
PA750 7.5 mfd .0003 20x33 0.8x35
PA820 8.2 mfd .0003 21x33 1.0x40
PA910 9.1 mfd .0003 22x33 1.0x40


---

PA1000 10 mfd .0003 23x33 1.0x4
PA1100 11 mfd .0003 24x33 1.0x4
PA1200 12 mfd .0004 25x33 1.0x4
PA1300 13 mfd .0004 23x38 1.0x4
PA1500 15 mfd .0004 25x38 1.0x4
PA1600 16 mfd .0004 26x38 1.0x4
PA1800 18 mfd .0004 27x38 1.0x4
PA2000 20 mfd .0004 29x38 1.0x4


---

PA2200 22 mfd .0005 28x43 1.0x4
PA2400 24 mfd .0005 29x43 1.0x4
PA2700 27 mfd .0005 31x43 1.2x4
PA3000 30 mfd .0006 32x43 1.2x4
PA3300 33 mfd .0006 31x48 1.2x5
PA3600 36 mfd .0007 33x48 1.2x5
PA3900 39 mfd .0007 34x48 1.2x5
PA4300 43 mfd .0008 36x48 1.2x5


---

PA4700 47 mfd .0008 38x48 1.2x5
PA5100 51 mfd .0009 37x53 1.2x5
PA5600 56 mfd .0009 39x53 1.2x5
PA6200 62 mfd .001 38x58 1.2x5
PA6800 68 mfd .001 41x58 1.6x5
PA7500 75 mfd .001 43x58 1.6x5
PA8200 82 mfd .001 45x58 1.6x5
PA9100 91 mfd .001 47x58 1.6x5


---

PA10000 100 mfd .001 50x58 1.6x50
PA11000 110 mfd .001 51x63 1.6x58
PA12000 120 mfd .001 52x63 1.6x58
PA13000 130 mfd .001 53x72 1.6x58
PA15000 150 mfd .001 55x72 1.6x58
PA16000 160 mfd .001 57x72 1.6x58
PA18000 180 mfd .001 59x72 1.6x58
PA20000 200 mfd .001 57x85 1.6x58


---

PA22000 220 mfd .001 60x85 1.6x58
PA24000 240 mfd .001 62x85 1.6x58
PA27000 270 mfd .001 59x110 1.6x65
PA30000 300 mfd .001 62x110 1.6x65
PA33000 330 mfd .001 65x110 1.6x65


---

Dissipation Factor (%) ±10%
Dimensions (mm) ±10%

PB 400 Vdc/250Vac

P/N Capacitance / DF ?DxL ?dxl


---

PB100 1.0 mfd .0001 13x23 0.8x25
PB110 1.1 mfd .0001 14x23 0.8x25
PB120 1.2 mfd .0001 15x23 0.8x25
PB130 1.3 mfd .0001 13x25 0.8x25
PB150 1.5 mfd .0001 14x25 0.8x25
PB160 1.6 mfd .0001 15x25 0.8x25
PB180 1.8 mfd .0001 16x25 0.8x25
PB200 2.0 mfd .0001 17x25 0.8x25


---

PB220 2.2 mfd .0001 16x28 0.8x30
PB240 2.4 mfd .0001 17x28 0.8x30
PB270 2.7 mfd .0001 18x28 0.8x30
PB300 3.0 mfd .0001 19x28 0.8x30
PB330 3.3 mfd .0002 20x28 0.8x35
PB360 3.6 mfd .0002 17x33 0.8x35
PB390 3.9 mfd .0002 18x33 0.8x35
PB430 4.3 mfd .0002 19x33 0.8x35


---

PB470 4.7 mfd .0002 20x33 1.0x35
PB510 5.1 mfd .0002 21x33 1.0x35
PB560 5.6 mfd .0002 22x33 1.0x35
PB620 6.2 mfd .0002 23x33 1.0x35
PB680 6.8 mfd .0003 24x33 1.0x35
PB750 7.5 mfd .0003 26x33 1.0x35
PB820 8.2 mfd .0003 24x38 1.0x40
PB910 9.1 mfd .0003 25x38 1.0x40


---

PB1000 10 mfd .0003 26x38 1.0x40
PB1100 11 mfd .0003 27x38 1.0x40
PB1200 12 mfd .0004 28x38 1.0x40
PB1300 13 mfd .0004 27x45 1.0x40
PB1500 15 mfd .0004 28x45 1.0x45
PB1600 16 mfd .0004 29x45 1.0x45
PB1800 18 mfd .0004 31x45 1.0x45
PB2000 20 mfd .0004 32x45 1.2x45


---

PB2200 22 mfd .0005 34x45 1.2x45
PB2400 24 mfd .0005 32x53 1.2x45
PB2700 27 mfd .0005 34x53 1.2x45
PB3000 30 mfd .0006 36x53 1.2x45
PB3300 33 mfd .0006 38x53 1.2x50
PB3600 36 mfd .0007 39x53 1.2x50
PB3900 39 mfd .0007 38x58 1.2x50
PB4300 43 mfd .0008 40x58 1.6x50


---

PB4700 47 mfd .0008 42x58 1.6x50
PB5100 51 mfd .0009 44x58 1.6x50
PB5600 56 mfd .0009 46x58 1.6x50
PB6200 62 mfd .001 48x58 1.6x50
PB6800 68 mfd .001 48x63 1.6x50
PB7500 75 mfd .001 50x63 1.6x50
PB8200 82 mfd .001 53x63 1.6x50
PB9100 91 mfd .001 55x63 1.6x50


---

PB10000 100 mfd .001 58x63 1.6x50
PB11000 110 mfd .001 59x63 1.6x50
PB12000 120 mfd .001 60x63 1.6x50
PB13000 130 mfd .001 59x83 1.6x58
PB15000 150 mfd .001 61x83 1.6x58
PB16000 160 mfd .001 63x83 1.6x58
PB18000 180 mfd .001 58x110 1.6x65
PB20000 200 mfd .001 61x110 1.6x65


---

PB22000 220 mfd .001 62x110 1.6x65






---

FAST CAPACITORS
METALLIZED POLYPROPYLENE

PPE 630Vdc/330Vac

P/N Capacitance / DF ?DxL ?dxl


---

PPE010 .10 mfd .0001 9x17 0.8x20
PPE012 .12 mfd .0001 10x17 0.8x20
PPE015 .15 mfd .0001 9x20 0.8x20
PPE018 .18 mfd .0001 10x20 0.8x20


---

PPE022 .22 mfd .0001 11x20 0.8x20
PPE027 .27 mfd .0001 11x20 0.8x20
PPE033 .33 mfd .0001 12x20 0.8x20
PPE039 .39 mfd .0001 12x20 0.8x20


---

PPE047 .47 mfd .0001 13x20 0.8x20
PPE056 .56 mfd .0001 14x20 0.8x20
PPE068 .68 mfd .0001 15x20 0.8x20
PPE082 .82 mfd .0001 14x25 0.8x25


---

PPE100 1.0 mfd .0001 16x25 0.8x25
PPE120 1.2 mfd .0001 17x27 0.8x25
PPE150 1.5 mfd .0001 18x27 0.8x25
PPE180 1.8 mfd .0001 20x27 0.8x25


---

PPE220 2.2 mfd .0001 19x33 1.0x30
PPE270 2.7 mfd .0001 21x33 1.0x30
PPE330 3.3 mfd .0002 23x33 1.0x35
PPE390 3.9 mfd .0002 23x38 1.0x35


---

PPE470 4.7 mfd .0002 26x38 1.0x35
PPE560 5.6 mfd .0002 28x38 1.0x35
PPE680 6.8 mfd .0003 30x38 1.0x35
PPE820 8.2 mfd .0003 30x45 1.0x40


---

PPE1000 10 mfd .0003 32x45 1.2x40
PPE1200 12 mfd .0004 36x45 1.2x40
PPE1500 15 mfd .0004 36x53 1.2x45
PPE1800 18 mfd .0004 39x53 1.2x45


---

PPE2200 22 mfd .0005 42x58 1.6x45
PPE2700 27 mfd .0005 46x58 1.6x45
PPE3300 33 mfd .0006 49x63 1.6x50
PPE3900 39 mfd .0007 53x63 1.6x50


---

PPE4700 47 mfd .0008 54x72 1.6x50



---

Recommended for Tube Amplifier application.

Dissipation Factor (%) ±10%
Dimensions (mm) ±10%

PPE 630Vdc/330Vac, Metal Can

P/N Capacitance / DF ?DxL Term.


---

PPE5100 51 mfd .001 55x88 2x6.35
PPE10000 100 mfd .001 65x116 2x6.35




---





PESG 1500Vdc, Metal Can

P/N Capacitance / DF ?DxL Term.


---

PESG5100 51 mfd .002 55x116 2x6.35


---



PPM 1000vdc, Bypass Cap

P/N Capacitance / DF ?DxL ?dxl


---

PPM0010 .010 mfd .00011 7x16 0.8x20
PPM0022 .022 mfd .00013 9x16 0.8x20
PPM0047 .047 mfd .00017 11x16 0.8x20


---